Anoka Faruqee: Ways of Being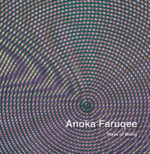 12 x 9.5 inches; 237 pages; 2015
With color plates of 78 paintings dating from 1996-2015, images of studio and process, texts by Dean Daderko and Leslie Dick, this book provides an in-depth overview of Anoka Faruqee's career. Hardcover, published by Vescon (Frankenthal, Austria) and Koenig and Clinton Gallery (New York).
Moiré Paintings 2012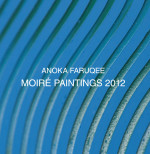 7 × 7 inches; 114 pages; 2013
With 88 color plates and a short text by the artist, this book is a complete record of every moiré painting Anoka Faruqee made during 2012. Available in hardcover and softcover.
– Buy book
Field Notes
This book documents the making of two of Faruqee's paintings: "Equator" and "Corbelled Arch," both 2010. A series of studio photographs catalogues the laborious practice of mixing dozens, sometimes hundreds of subtly shifting colors for each painting. The book tracks Faruqee's disciplined yet surprisingly freehand painting process, as she repeats a single handmade motif across a large surface on subtly increasing curves.
– Buy book